Bachelor of Science in Industrial Distribution & Logistics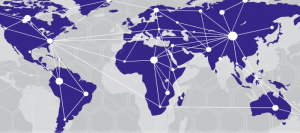 Distribution and Logistics represents professions concerned with the movement and delivery of goods throughout the world. In the College of Engineering and Technology, the distribution and logistics program provides a unique combination of coursework, technology, and hands-on learning to prepare students for successful careers in the supply chain. Our classes are taught by professional faculty with industry experience, interactive teaching styles, and a strong network of career opportunities for graduates.
Whether you are a new freshman, a transfer student, or an industry professional looking to enhance your career opportunities, we have a degree program for you. Enroll in face-to-face classes in our state-of-the-art Science and Technology Building or enjoy the flexibility of a completely online option through North Carolina's leader in distance education. The opportunity to earn a minor in business administration adds additional value. Our graduates find success in the manufacturing industry, wholesale distribution, e-commerce, business-to-business sales, transportation companies, and international logistics.
---
A Degree in Demand
According to the U.S. Bureau of Labor Statistics, supply chain related occupations may include logisticians, purchasing, transportation/distribution managers, supply chain analysts, and more. In 2016, the median salary for these professionals was $74,160; and the job outlook, on average, is positive at 22-percent growth. U.S. News and World Report states that distribution and logistics is one of the top 25 career choices for 2018.
---
Program Objectives and Outcomes
Our graduates will:
Check out our list of courses and a proposed four-year plan:
---
Transferring from a North Carolina Community College?
Questions concerning transferring into this 4-year BS Industrial Distribution and Logistics degree can be directed to cetadvising@ecu.edu. You can also ask if you qualify for a 2-year plan for an Industrial Distribution and Logistics concentration within the BS Industrial Technology degree.
---
Internships/Co-Op Experiences
Faculty assist students to obtain a required internship or co-op experience for course credit. The real-world experience develops the relationship between coursework and industry, providing personal and professional growth.
---
Faculty like Family
All of faculty have real-world experience and enjoy staying closer to our students. We recognize that our job is two-fold: provide you an outstanding education and help guide you on navigating the employer recruiting process as you pursue that important first job upon graduation. Our goal is to help you build a successful career.
---
Organizations
Other organizations that Distribution and Logistics students are encouraged to join include:
---
Student Organizations
PAID: Professional Association of Industrial Distribution
This ECU student organization promotes relationships and involvement with regional companies to provide on-site visits and networking opportunities.
---
The Bachelor of Science in Industrial Distribution and Logistics is accredited by
ATMAE: The Association of Technology, Management, and Applied Engineering
---
CONNECT WITH US