Researching Alzheimer's
**For additional details about the research, please watch this video**. 
A faster and non-invasive way to identify dementia in senior citizens just might come out of Goldsboro, North Carolina through a collaboration between ECU researchers.
ECU's College of Engineering and Technology, with assistance from ECU's College of Nursing, is currently studying whether a proposed technology platform can help doctors pinpoint whether a patient has mild cognitive impairment (MCI) that can lead to dementia and Alzheimer's. The platform uses existing open-source software and electroencephalogram (EEG) testing to capture the brainwaves of research subjects who either have Alzheimer's (or dementia) or who don't show symptoms.
Using a skull cap with 16 electrodes which detect brainwave signals that are fed into a computer for further analysis, researchers can administer a visual test to see how fast and strong a patient's preconscious reaction is to seeing a familiar human face, an unfamiliar human face and a watch face.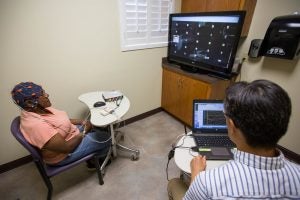 Dr. Sunghan Kim, assistant professor of engineering, is the lead investigator of the research. He's hoping the data collected will show the recognition discrepancies that could ultimately lead to early detection capabilities, such as the platform he's currently testing.
"We want to compare the brain's response to the familiar face versus a watch face," said Kim. "Later, I can analyze the data and see what part of the brain is functioning or not functioning, based on the placement of the electrodes."
According to the Alzheimer's Association website, the number of Americans living with Alzheimer's disease is rapidly increasing. An estimated 5.5 million Americans of all ages have Alzheimer's disease. One in 10 people over 65 suffer from it. Plus, approximately 200,000 individuals are under the age of 65 and have younger-onset Alzheimer's.
For the state of North Carolina, the number of citizens diagnosed with Alzheimer's is expected to grow more than 31 percent between 2017 and 2025.
Getting Ahead of the Numbers
Current Alzheimer's testing relies on two methods: the Montreal Cognitive Assessment test, which is a standard questionnaire to assess various aspects of cognitive functions, and an MRI, which can help with diagnosis. These tools confirm whether or not a patient has Alzheimer's or dementia.
One of the goals of this new platform, once out of the research phase, is to give physicians a new tool to help them diagnose or confirm the disease more quickly. According to Kim, having this capability will allow patients to begin treatment to stave off the illness and will help their families prepare for the inevitable.
Rubi Merino is a nurse with the College of Nursing. Thanks to a grant, she's currently
working on a geriatric program at the Goshen Medical Center in Goldsboro. It's this program that's allowing Kim and his team to conduct its research.
Merino currently recruits and screens patients who are 55 years of age or older to see if they would be ideal candidates for Dr. Kim's testing. She thinks Kim's research could be of great benefit to physicians – and their patients – who live in rural communities.
"Usually primary care providers in rural North Carolina, rural areas are not properly trained to … diagnose them (patients with Alzheimer's or dementia)," said Merino. "What happens is this person has to be referred out to a neurologist who will do a series of tests, which takes a few appointments with the neurologist before saying 'you're diagnosed with Alzheimer's.'"
"College of Nursing's role in this research is critical," said Kim. "I have a device to record brainwaves, and they have a grant and human power (nurses and staff) to reach out and recruit people who may or may not have MCI."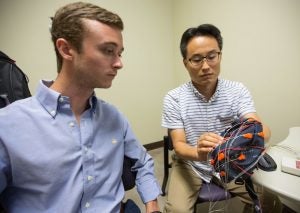 ECU graduate student Austin White is also assisting with Kim's research. White is a recent ECU biomedical engineering undergraduate who is pursuing his master's in the same discipline. His great grandmother was diagnosed with Alzheimer's at the age of 80. She eventually died at 95.
"I do remember it," White said. "The disease progressed to the very late stages."
What's Next?
To date, Kim has captured data from 20 subjects. The goal is to have 120 subjects participating in the research, which he says should be complete within two years.
"Once I get to 120, I can make a statistically meaningful conclusion on the brainwave difference between MCI and healthy patients," said Kim.
Then, he added, the data set will be used to develop a diagnostic tool that utilizes advanced machine-learning techniques.
"Ultimately, this system can be deployed to rural medical centers."