College to Help Business with New, Innovative Environment
ECU's College of Business has received a $2 million commitment from Van and Jennifer Isley of Raleigh that will provide opportunities for business, engineering, technology and arts students to have "creative collisions" that produce innovation and entrepreneurship.
The College of Engineering and Technology (CET) will play a major role in these creative collisions. And, CET Dean Harry Ploehn gives insight into that role and its possibilities.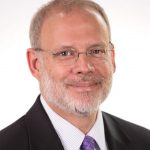 "We want to help engineering, computing and technology students see how design innovation leads to entrepreneurial opportunity," he says.  "Creative collisions with business students will facilitate that and prepare them to bridge the technology and business worlds after graduation."
You can read more about the story and Dean Ploehn's thoughts here.