Abdel-Salam Wins SAE Award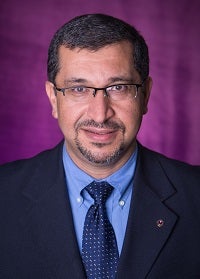 Congratulations to our very own Dr. Tarek Abdel-Salam, associate dean for research and the director of the Center for Sustainability. He was recently awarded the 2018 Forest R. McFarland Award from SAE International, a global association of more than 128,000 engineers and related technical experts in the aerospace, automotive and commercial-vehicle industries.
The award recognizes Abdel-Salam for his outstanding contributions in the planning, development and dissemination of technical information through technical meetings, conferences and professional development programs at SAE events. It also recognizes his contributions to event operations in facilitating or enhancing the interchanges of technical information.
Whew. That's a lot of work, and indeed, Abdel-Salam has accomplished a great deal of work for SAE.
Over the last year, he has helped organize and disseminate information for more than 30 SAE sessions in countries such as Japan, China, Brazil, the United States, England and Italy.
The award acknowledges Abdel-Salam's work in the field of Powertrain, Fuels and Lubricants.