College Student to Compete in National Entrepreneurial Challenge
Good luck to Magus Pereira, a senior computer science major with the College of Engineering and Technology. Later this week, he will be competing his product, Cluster Duck, at Texas Christian University's (TCU) 2018 Values and Ventures® Competition. Featuring 55 college teams, the event requires students to present their plan for a for-profit business that benefits the community, environment or a specific population. More than 100 business professionals will serve as judges and mentor the teams.
Competition starts Friday, April 6, with the top teams advancing to the finals Saturday, April 7. This is the eighth year for the competition, presented by the Neeley Entrepreneurship Center in the TCU Neeley School of Business.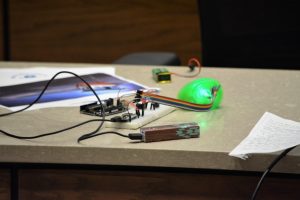 This competition is not the first time Pereira has pitched (or competed) Cluster Duck, which is a distress signal that helps first responders by connecting with, discovering and recovering individuals during natural disasters. He participated in the Miller School of Entrepreneurship's inaugural Pirate Entrepreneurship Challenge and advanced to the final round.
Pereira also is pursuing his certification in entrepreneurship from the Miller School, who has mentored Pereira and prepared him for this latest pitch competition.
Pereira's participation in the 2018 Values and Ventures competition marks the first time for ECU.