Graduate Spotlight: Thomas Zachary Smarsh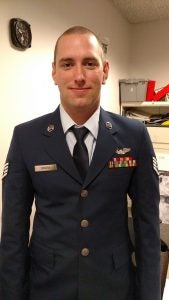 Staff Sergeant Thomas Zachary Smarsh will graduate this May from the College's Bachelor of Science in Industrial Technology transfer program. Not only was Smarsh selected as the program's outstanding senior, but he also was the College's first AMP UP graduate, which is the University's program that addresses the educational needs of the military population and offers a flexible 8-week online format for undergraduate courses meeting general education requirements.
We recently spoke with Smarsh, who is from LaGrange, North Carolina, and learned more about him and how the College, as well as the AMP UP program, will help him meet his career needs.
How long have you been in the Air Force?
I joined the Army in 2012 and transferred to the Air Force in 2016 with the rank of Staff Sergeant.
Why did you choose to enroll at ECU and the College of Engineering and Technology?
When I returned to NC after serving in the Army, I had the intention of continuing my education since I had already completed three years toward an engineering degree. When I heard that ECU was starting a military-centered program with long-distance classes,  I looked into it to see what it would offer and how fast I could be complete my degree.
How has the university's AMP-UP program helped you?
It's helped me tremendously being able to take several classes in short terms. Therefore, I was still able to do my job with the Air Force, as well as focus on school when I could. The ability to take classes online enabled me to continue school while I was deployed.
You're graduating in May? What's next for you?
With my degree comes the possibility of getting an Air Force commission. I'm also going to interview to become a pilot on the aircraft I currently support. It will take me about two more years of training and schooling to get to that point, but the start is having my degree done!
What accomplishment (s) are you most proud of while at the College of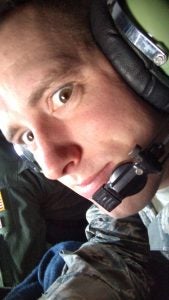 Engineering and Technology?
I think I'm most proud of achieving all A's in each of my five classes while deployed. We flew our aircraft in missions almost every day, and I would be working 12-16 hours of the day. However,  I had the discipline and the focus to study and complete all the coursework and finish the semester strong.
What would your classmates, professors and friends be surprised to learn about you?
The fact my wife and I have been married almost six years and have no intention of having kids could surprise some folks. What seems to shock most people is that we have several pet rats, which are incredibly smart animals.  They are fun to carry around in pockets!