Order Inducts New Engineers
The College of Engineering and Technology's Department of Engineering hosted the Ninth Order of the Engineer induction ceremony on May 2. The basic premise for the Order recognizes the obligation engineers have to each other, the profession and the public they serve.
During the presentation, the new engineers were given a ring to wear on their little finger. The ring symbolizes a dedication to upholding honesty, integrity and lessons learned from their predecessors.
"According to tradition, a twisted iron pipe from an early 1900s bridge failure was sliced into rings and worn by engineers to remind them of their solemn responsibilities and the potential consequences of their work," said Dr. Gene Dixon, professor in the Department of Engineering.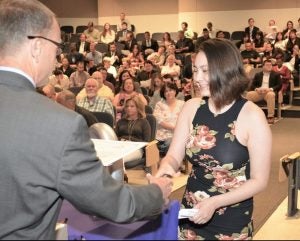 "The ring signifies the wearer is an engineer who is possessed of a publicly-avowed dedication to his profession and the public it serves."
With this ceremony, 73 graduating students and three professionals joined the Pirate Engineer Link #269. Links are the local sections of the Order, and ECU's link was established in 2009 after the accreditation of the college's engineering program.
Sponsors of this year's induction ceremony included Goldsboro's SPX Transformers Solutions and Greenville's Terracon.
Dixon hosted the induction ceremony. Speakers included Jim Hackney, CEO of the Hackney Group, who provided a history of the Order, and Carl Bonner of Terracon, who spoke about the Order's significance.
Engineer and ECU 2016 alumna Lindsay Staten, currently an electrical engineer with SPX, spoke to the new inductees to close out the ceremony.