College takes third at NASA rover challenge
Five College of Engineering and Technology students recently competed and won third place in the 2018 Human Exploration Rover Challenge. The April event, which was held in Huntsville, Alabama, was sponsored by Marshall Space Flight Center and U.S. Space & Rocket Center.
According to a NASA news release, the competition challenged high school and college teams to design, build and test human-powered roving vehicles inspired by the Apollo lunar missions and future exploration missions to the moon, Mars and beyond. This year's competition challenged teams to complete 14 obstacles and five tasks throughout a half-mile course, with a six-minute supply of "virtual" oxygen.
The obstacles simulated the terrain found throughout the solar system, and the tasks challenged teams to collect and return samples, take photographs and plant a flag. Teams had to decide which tasks and obstacles to attempt or bypass before their clock expired.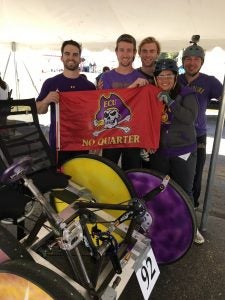 ECU's team competed against 63 other universities and colleges. They were the only team to complete the entire obstacle course. The team included juniors Evan Diener, Andrew Grena, Tanner Guin, Jameson Morris and Morgan Watkins. Dr. Tarek Abdel-Salam served as the faculty advisor.
"The goal was for these students to take what they learned and apply it to future competitions," said Abdel-Salam.
Students in the team are members of the college's American Institute of Aeronautics and Astronautics and the American Society of Mechanical Engineers. The team's participation in the competition was made possible by the North Carolina Space Grant.
This year marked the second time an ECU team participated in the event.