IDIS Students Network with, Learn from Industry Leaders
The Industrial Distribution and Logistics (IDIS) program from the College of Engineering and Technology was invited to attend the Material Handling Equipment Distributors Association (MHEDA) Annual Convention in May.  Rising seniors Caroline Harris and Nicholas Whedbee joined other student peers from Clemson, Texas A&M, Purdue and the University of Nebraska at Kearney.
MHEDA's gift to Harris and Whedbee so they can attend the conference was announced in February of this year. You can find that story here.
According to Liz Richards, MHEDA CEO, the initiative of sponsoring students to attend the annual convention began in 2006 and continues today.
"Our members see tremendous value in bringing students to the convention as they are all looking to hire young talent," said Richards. "ECU provides practical education allowing graduates to provide immediate help to any company that hires them. We are very grateful for the long-standing partnership we have with the (ECU's) IDIS program."
"Spending four days in Miami with more than 600 industry professionals provided valuable personal and professional growth for Caroline and Nick," stated Dr. Mark Angolia, assistant professor and program coordinator.
"Caroline and Nick did an outstanding job representing ECU, continuing an IDIS tradition of bringing high-quality students to meet MHEDA members," added Hal Ingram, group vice president for Gregory Poole Equipment Company. "We have quite a few ECU grads that are a part of the Gregory Poole Team, and we are proud to have them contributing to our future."
The experience kicked off with Harris and Whedbee attending an invite-only, past president's dinner. With a cruise of Biscayne Bay as the backdrop, this event gave the students a chance to network with business owners and industry leaders. Students then spent the next three days attending presentations on industry trends, economic forecasts and business management initiatives.
"MHEDA provided me an opportunity to meet industry professionals who taught me a lot about being a leader and helped grow my knowledge about the industry," said Whedbee.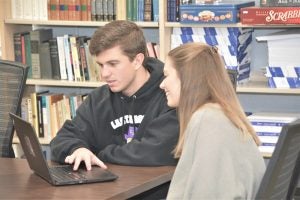 "The opportunity provided me with a preview of the business professionals I could be working for (or with) very soon," said Harris. "I am grateful for the chance to network with these individuals, as well as to have an amazing time. It is definitely an experience I will always cherish."
May's MHEDA convention won't be the only chance Harris will have to interact with industry leaders. In November, she will attend by invite the association's Women in Industry Conference in Chicago.