CET Graduates on the Move: Fredielyn Cunanan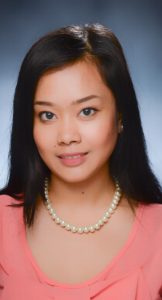 Congratulations to Fredielyn Cunanan, a 2017 BSIT (bioprocess manufacturing) graduate, who was just accepted in Harvard University's Master of Science in Biotechnology program.
"I'm officially a Harvard student," she wrote us.
About her experience with the College's BSIT program, she said, "I absolutely loved the program. Although I was a distance learner due to working full time, the teachers and teaching fellows were highly available and made it a terrific experience."
Cunanan currently is the program manager in the Surveys and Observational Studies group at RTI Health Solutions in North Carolina's Research Triangle Park.
She added, "I think what distinguishes BSIT from other distant education programs is the sheer amount of resources the College is willing to put behind BSIT's offerings to make it the very best."
When asked for the one word she would use to describe her experience, Cunanan said, "Metamorphic."
Visit here to learn more about the College's BSIT program.