Computer Science Students attend HackNC
Computer science students representing the Association for Computing Machinery (ACM) and Women in Computer Science (WiCS) recently participated in HackNC, a 24-hour hackathon that took place at UNC-Chapel Hill.  ECU was one of many universities that participated.
ECU students who attended the event include Tiffany Nguyen, Johnnie Hernandez (ACM Vice Chair), Isaiah Binford (ACM Webmaster), Keyuana Coaxum (WiCS Vice President), Lilah El-Halabi (WiCS Treasurer), Joe Williams, Robert Saul, Dean Murray, Jahina Hayes, Sam Carraway and Amelia Hernandez.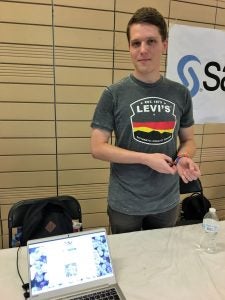 What came out of HackNC? How about two blockchain applications? Hernandez developed an application that allows the user to monetize and track usage of their data. For example, right now companies such as Facebook collect data on its users and sell that data to other companies. With Jay's application, an individual can decide who uses their data, receive payment for it, and ensure that no one who is not approved has access to that data.
Williams also developed an application that is much like an educational game. With it, one can create game characters on the blockchain, level up those characters by playing educational games, and then trade or sell those characters to other people.
"They did all of this in one day," said Nguyen, founder/president of WiCS and chair of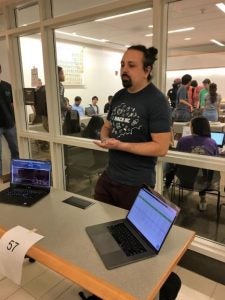 ACM. "We're very proud of them both."
Nguyen added that students are currently looking into starting a student group dedicated to blockchain. She's hoping the group will be both interactive and informative.
"Our group will bring together students who are driven enough to learn on their own while also allowing them to come together to ask questions and learn from others," said Nguyen.