Batts inducted into Educators Hall of Fame
Dr. David Batts of the Department of Technology Systems was inducted into the ECU College of Education's Educators Hall of Fame this fall. Batts was nominated by Gail and David Englert.
"We nominated Dr. Batts for the Educators Hall of Fame because he agreed to take on the role of faculty advisor to Phi Sigma Pi, because he exhibits and lives by the tenets of scholarship, leadership and fellowship in his university life each day, and because we treasure his friendship," said David Englert.
The Educators Hall of Fame was initiated in 1999 to permanently acknowledge education professionals and associations who have made distinguished contributions to the field of education through service and mission. Nominations are secured with a minimum $1,000 gift to the college for the establishment of the Educators Hall of Fame Endowment Scholarship. Scholarships from the endowment are awarded to outstanding education majors.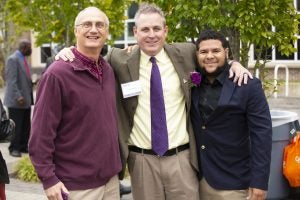 Batts, center, was joined by former students Ken Colvin, left, and Joshua Jones, who attended the induction ceremony.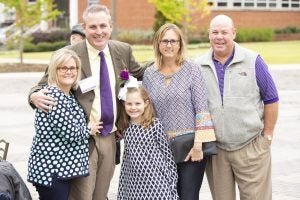 The Batts family
Gail Englert, left, and Dr. David Batts