What ECU Means to Me: Dustin Jones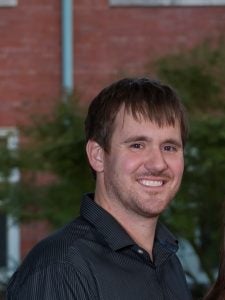 Dustin Jones is a graduate of the Department of Engineering and also earned his MBA at ECU. He is a Process Engineering Manager at Prysmian Group North America, a world leader in the energy and telecom cable systems industry. Jones recently served as a judge for the Fall 2018 Engineering Capstone Colloquium. Here are his thoughts on his time at ECU:
A college education means an opportunity to live a richer life. I am not talking about rich in terms of money, although that is part of the equation, but rather rich in terms of choices about what your life will be like. It allows you to do something that interests you and it can make opportunities possible. You can have a profession and a career rather than a job.
Many colleges out there do an excellent job in teaching their students what is in the textbooks. But the ECU engineering faculty always took it one step further, and taught us with their life experiences, wisdom, and actions.
When I joined the engineering program, there were just a handful of professors attempting to build an engineering program from nothing. Classes were being taught for the very first time by professors that were teaching for the very first time. It was a dynamic environment where things changed on a weekly or even a daily basis. Nothing was set in stone. We had a project management course that required us to build and manage the class itself. Creating study lessons, schedules, and yes, even creating and giving each other tests.
We learned more from this than you could ever be taught from a traditional book. By professors setting the example, and by our having to forge our own path, we learned to embrace change, adapt, overcome, and to never quit. In short, we learned how to be go-getters.
Now, 10 years later, I am the North American Engineering Manager for the largest wire and cable company in the world. I always keep an intern from the ECU engineering department as my right-hand. They work directly with me on multi-million-dollar projects, and they have yet to disappoint. They have been some of the most driven individuals that I have ever met. When I assign them project tasks, the goals are clear, but the details are always vague, yet they always seem to get the work done and reach the goals.
So, to summarize and address the initial question, "What does the ECU School of Engineering mean to me?" It means everything. ECU gave me the skills needed to take full advantage of the opportunities that were presented to me, and I see the same education being imparted into those members of the current student body.
– Dustin Jones