Franklin nabs prize in essay contest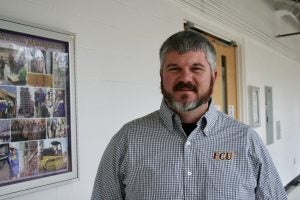 Construction management student Joseph Franklin was selected by the Associated General Contractors Education and Research Foundation as the winner of its annual Allhands Essay Competition. Franklin will travel to the AGC convention in Denver in April and earned a $1,000 cash prize for himself and $500 for his faculty advisor, Bryan Wheeler. Franklin's essay addressed the issue of attracting and retaining top employees in the construction industry.
"My focus was that by placing proper value on an employee's contribution in the workplace/field, that good retention would follow," Franklin said. "This is important to me as I am about to enter the construction field as a new employee and believe that my work is valuable. All employees contribute to companies to provide a good product or service and should be compensated and recognized in a variety of ways that focus on extrinsic as well as intrinsic needs. I believe that by doing this, companies can attract and retain top employees."
Franklin wrote the essay for Wheeler's class on construction quality and human resource management.
"I am absolutely thrilled and very excited for Joseph," Wheeler said. "He is the first student to win this competition in my 12 years of teaching at ECU. Joseph is an outstanding student, and his attention to detail and research of this topic were instrumental in winning the competition."
Franklin, who returned to school for his construction management degree after 15 years as a pastor, said traveling to the national construction conference will be a first for him. Some of the prize money will be used so that his wife can travel with him, he said.
"I hope that I will be introduced to some of the top construction companies in the country as well as meet with some of the leading construction managers and owners," he said.