ECU team heads to NAHB Student Competition in Las Vegas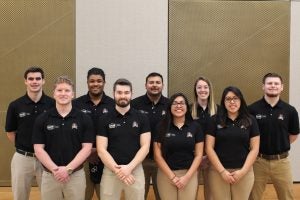 The Construction Management Department at East Carolina University is sending a team of students to Las Vegas to compete in the National Association of Home Builders (NAHB) Student Competition Feb. 18-20. This year's team includes Tristan Merritt, Alec Woodruff, Jordan Milhouse, Marlen Mendoza-Patricio, Julian Diaz, Daniel Bickers, Dylan Clark, Abby Russell and Abigail Gonzalez. The team's faculty advisor is Dan Thomas.
The annual NAHB Student Competition is one of the highlights of the International Builders' Show (IBS). The competition gives students the opportunity to apply skills learned in the classroom to a real construction company by completing a management project/proposal. Proposals are submitted to a group of construction company executives who act as judges. During the convention, students make a presentation and defend their proposals to the judges in front of an audience.
This year, 37 teams from around our nation are competing to find the best solution to the competition "problem." The competition will include Clemson, Michigan State, Penn State, University of Denver, University of Florida and Brigham Young University.
This year's problem involves a 152.64-acre site 30 minutes outside of Tulsa, Oklahoma, which is for sale for $2.5 million. Approval is needed from the company's senior executives to purchase and develop the property.
The ECU team must prepare a proposal that includes a market analysis, product design and selection, site design (subdivision layout), cost estimate and schedule of site work and homes, sales and marketing strategy, financial analysis, risk analysis, and sustainability. This proposal also included researching all local zoning and regulations which had to be incorporated. The proposal was due in December. The team now heads to Las Vegas to present and defend it before a panel of judges.