Meet CET's Brad Collier
Name: Brad Collier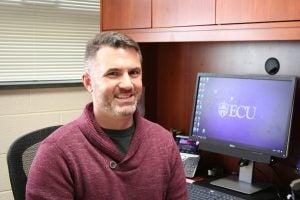 Official title: Assistant Director of First Year and Transitional Programs
Hometown: Goldsboro, N.C.
Where did you work prior to coming to the College? Wayne Community College
What will you be doing for the College? Overseeing programming for first year intended majors, facilitate the CREATE LLC and the peer mentor program.
Why did you choose to come to ECU? I attended ECU and I live in Greenville. I've been wanting to get back on campus to work and help our future pirates!
What would people be surprised to learn about you? I taught cake decorating while I was in graduate school and I am the organist at First Presbyterian Church here in Greenville.