Meet Lab Supervisor Josh Pitzer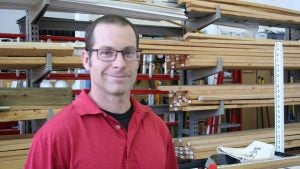 Name: Josh Pitzer
Official title: Laboratory Supervisor
Hometown: Goldsboro, N.C.
Where did you work prior to coming to the College? I started working in molecular biology/genetic engineering labs as an undergraduate. I have worked in academic research labs at UNC, Iowa State University, University of Michigan and ECU. For the last 10 years I have been at the Brody School of Medicine as a Research Specialist studying Lyme Disease and nanoparticle toxicology. Most recently, I managed the only Biological Safety Level 3 laboratory on campus studying gene regulation, environmental stress and host interactions of the bacterium Brucella abortus. I have trained numerous graduate students and postdocs, many of whom have gone on to successful scientific careers of their own.
What will you be doing for the College? I will be providing support for the Construction Management labs as well as helping with other instructional and research labs including the Bioprocessing and Biomedical Engineering labs.
Why did you choose to come to ECU? As an ECU alumnus, earning a master's degree in Molecular Biology/Biotechnology, it was an easy decision to come back to Greenville and be part of the ECU community. I joined the College of Engineering and Technology to take on a new challenge and try something new. According to the Cat in the Hat, "You'll never be bored when you try something new. There's really no limit to what you can do!"
What would people be surprised to learn about you? I think people would be surprised to know that I have co-authored 20 scientific research articles and a book chapter. But probably more interesting, I was on the UNC football team back when Mack Brown was the head coach … the first time he was the head coach.