ICT student selected as first Red Hat Academy intern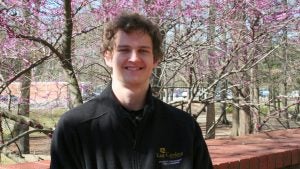 Charly Tanner, a junior in the Information and Computer Technology program, has been selected as the first intern for the Red Hat Academy, a role he will assume in May 2019.
The Red Hat Academy provides curricula and support for almost 400 schools in North America and more than 1,000 globally to provide training and testing in Linux and open source technology.
"Charly will help us identify key areas in which we can maximize the program impact and effective delivery to the student learner," said Trisha Turlington, business development manager for Red Hat Academy. "This is a unique opportunity for Charlie in that he will work alongside 200 other Red Hat interns in North America while gaining exposure to multiple areas of the business as he works with our Global Learning Services Team, Services Marketing Team and Curriculum Development."
Tanner said he's looking forward to seeing how what he's learned in the classroom is applied in the business environment.
"Red Hat as a company is basically a household name in my field of information technology; everyone knows who they are and what they do," he said. "By taking this opportunity, I hope I am able to establish a strong professional identity and learn more about how such a massive company operates."
Turlington said Tanner's participation in cyber competitions and in leading the rebranding and development of ECU's gaming club helped him stand out from other candidates for the internship.
"Charly's passion to continually learn new technologies and get engaged in new programs within his time at ECU really impressed us," she said. "He wasn't afraid to start something new and change direction of existing programs to ensure their optimal success."
Tanner, who learned about the internship through Lee Toderick, technology systems teaching instructor, agreed that the competitions have helped build on strategies and theories learned in the classroom.
"In preparation for many cyber competitions, I've been able to expand on things learned in my classes and many times I've implemented them from scratch in my own environments," he said. "While doing this you have to do a lot of your own research and you end up learning about more than you set out to."
As an officer of the gaming club, he has served on a committee whose goal is to improve the recreation options offered in ECU's student centers.
"It's all about engaging students, and that's what Red Hat wants me to do with this internship," he said.