CET alumni, advisor honored at 40 Under 40 Leadership Awards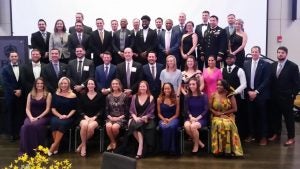 Three College of Engineering and Technology alumni – Mark Bray, Ryan Purtle and Major Thomas Grabos Jr. – and Anna Logemann, an advisor in the CET Advising Center, were recognized as outstanding young alumni at the fifth annual ECU 40 Under 40 Leadership Awards on Saturday, March 23.
Purtle, who earned a bachelor's degree in industrial distribution and logistics in 2015, currently serves as the city transportation planner for the City of Greenville, N.C. Purtle has stayed involved with the IDIS program since graduating and credits ECU and CET for helping develop both the technical and non-technical skills that have helped him succeed.
"The IDIS program is essentially formulated and taught by professionals who have chosen to impart their knowledge of how the supply chain, manufacturing and transportation fields operate. With that type of knowledge and expertise available, there is already an advantage given to the students," he said. "ECU, specifically the College of Engineering and Technology, creates the opportunity to learn equally important non-technical skills such as leadership, communicating effectively across an organization and being a professional after graduating."
Purtle said he is passionate about serving the community by devoting his talent to developing a multimodal transportation system that everyone can use safely and effectively. Dr. Mark Angolia, he added, was a major influence, and the two remain in contact to exchange ideas about the IDIS program as well as professional projects.
"To be recognized for my commitment to ECU and for serving my community is truly remarkable," Purtle said. "ECU will always be a home to me and I will always strive to serve and support its mission."
Logemann earned her bachelor's and master's degrees in communication in 2009 and 2012, respectively, and has been an academic advisory for CET for more than four years. In addition to helping CET students every day in a professional capacity, she currently serves as president of the Junior League of Greenville and on the board of directors for the Pitt County chapter of the Pirate Club, has served as secretary of the ECU Staff Senate, and is a 2017 graduate of the Chancellor's Leadership Academy.
"The people I work with at CET are great, helpful and make coming to work each day fun," she said. "Seeing the students succeed and make it to graduation is one of the best parts of being an academic advisor."
Grabos is a 2004 graduate of the construction management program and is currently the Battalion Administrative Officer for the N.C. Army National Guard in Durham, N.C. He has 16 years of service with the N.C. Army National Guard and was deployed in 2007-08 to Baghdad, Iraq in support of Operation Iraqi Freedom and in 2012-13 to Zabul, Afghanistan in support of Operation Enduring Freedom. He is also active as a youth athletics coach in Aberdeen, N.C.
Bray earned his bachelor's degree in distribution and logistics in 2006 and his master's in the same field in 2013. He is the supply chain director for ACR Supply Company in Durham, N.C. He has stayed involved with his alma mater and serves as a program advisor, student mentor and employer for the distribution and logistics program. Bray also serves in leadership roles for two industry associations and is active on several advisory boards.
Also honored at the banquet was Susan Bucci, owner of The Painted Peacock in Greenville, N.C. and the wife of Dr. David Bucci, director of the CET Advising Center. Susan Bucci earned a master's degree in metalsmithing and jewelry design at ECU in 2008. She contributes to the community and ECU through her work with student projects, local organizations and initiatives, and as a leader in the small-business community.