Red Hat representatives visit Technology Systems class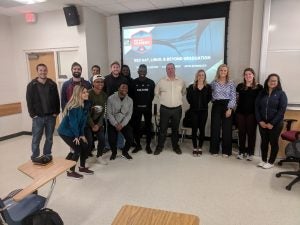 Representatives from Red Hat visited Travis Powell's ICTN 1500 class on Thursday, March 29, to speak with students in the Department of Technology Systems' information and computer technology program. Trisha Turlington, Lauren Power and John Berninger spoke to the class about Red Hat. Each discussed several of Red Hat's products and services, who their customers are, and about their certifications.
The discussion also touched on classes offered in the ICTN program at ECU that prepare students to attempt two of the highly sought Red Hat certifications in industry, the Red Hat Certified System Administrator RHCSA and Red Hat Certified Engineer RHCE. The Red Hat representatives commented on their experiences working for the company, what kind of employees Red Hat seeks to hire, and about employment and internship opportunities.