SWE Gala raises funds for STEM education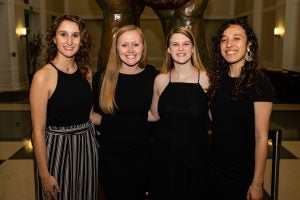 The Society of Women Engineers (SWE) hosted its first fundraising gala on Friday, April 5. With support from the American Society of Safety Professionals (ASSP), the Biomedical Engineering Society (BMES),  Institute of Electrical and Electronics Engineers (IEEE), National Society of Black Engineers (NSBE), and Women in Computer Science (WiCS), SWE hosted the event to benefit young STEM students within the Pitt County School System.
The gala raised $3,458 and was attended by more than 100 guests. Speakers Dr. Michelle Oyen, Cayla Wilson and Kelsey Law spoke about their experiences and their passion for STEM education.
"STEM education is a topic that, as engineering and technology students, we are all passionate about and work to promote in any way we can," said Antonia Dingeman, SWE vice president. "In order to support the efforts of our local community in providing younger students with meaningful experiences through STEM programs, we decided to take action to support one such program financially while also hosting a night of celebration,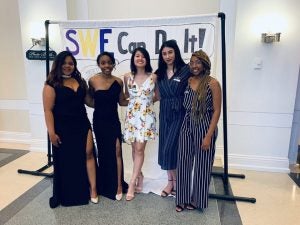 community and networking. SWE worked with Ann McClung, an ECU employee at the Center for STEM Education, to help promote STEM education across Pitt County by partnering with Pitt County Robotics and SWENext to promote STEM at the local boys and girls club."
The Gala was organized and hosted by about 20 active members from SWE, ASSP, BMES, IEEE, NSBE and WiCS over a four-month period.
"The SWE executive board members are truly thankful for the volunteers' commitment and hard work to host such a successful event," Dingeman said. "Our hope is for the Fundraising Gala to become an annual event that, over time, we can grow to a major event that reaches and includes many more students and faculty."
She added that the event provides an opportunity to promote CET to current high school students.
"The younger generations need to be influenced to pursue majors in the STEM field to influence the future," she said. "We would like to thank all of our sponsors including Dr. Barbara Muller-Borer and Mr. Michael Borer, Thrivent Financial, ECU's provost, Jon and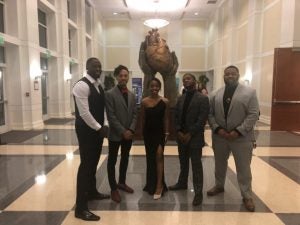 Wanda Yuhas, Rivers and Associates Inc., ECU Acoustics and Vibrations Lab, The Roberts Company, Tracy Dingeman, Dr. Harry J. Ploehn, Evelyn Brown, Dr. LaKesha Alston Forbes, Greenville Glass Company, Melonie Bryan, Ann McClung, and Cathy and Janice Williams.
"We would also like to thank all of the businesses who supported this event including Darlenes Keepsakes, Uptown Greenville, Newk's Eatery, Wings Over, Publix, Dowdy Student Stores, Food Lion, Harris Teeter, Bojangles, Kickback Jack's, Chico's Mexican Restaurant, Mellow Mushroom, The Blackened Kraken, Olive Garden, Sup Dogs, Moore's Barbeque, SweetSip, Simple & Sentimental, AMF, The Province, Pirate Paintings, and McAlister's Deli. Without their generous donations and efforts we would not have been able to offer so much to our guests."