Cyber Defense team supports regional competition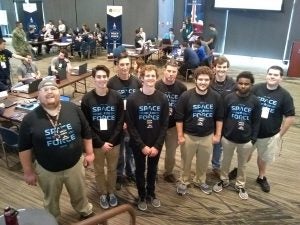 In February, a team from ECU's Department of Technology Systems competed in the first round of the Collegiate Cyber Defense Competition (CCDC).
The team placed ninth out of 32 teams, missing advancement to the Mid-Atlantic Collegiate Cyber Defense Competition by one spot, but was invited to Laurel, Maryland to support the competition as "black team" members. Phil Lunsford, associate professor of technology systems, said the black team provides technical support for the competition, picks up and delivers communications, and assists with administrative support.
Pictured are team members Paul Hayes, Omar Murad, Alex Hardt, Charly Tanner, Alan Tromba, Dylan Kerkhoff, Pete Cornelius, Isaiah Minor and Harrison Thaxton.