Downes named Rising Star of railroading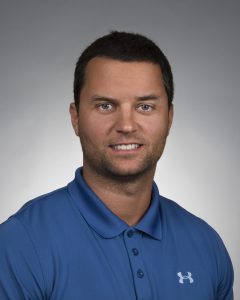 Landon Downes, a 2011 graduate of the Construction Management program and a current student in the Master of Construction Management program, has been named one of 2019's Rising Stars by Progressive Railroading.
This is the seventh year that Progressive Railroading has sponsored the Rising Stars Awards program. The magazine defines a Rising Star as someone under the age of 40 who has made, or is making, a positive impact on his or her company, organization, department or team, and is viewed by others — peers, colleagues, supervisors, clients or associates — as an up-and-coming leader in the rail industry.
Downes has worked with Balfour Beatty Rail (BBR) since 2011 and is now an assistant project manager, currently working on the Blue Line Extension Project in Charlotte, where BBR is building a 9.3-mile light rail extension, as the track and systems contractor.
Downs said the construction management program at ECU provided him with an understanding of construction management fundamentals and equipped him with the leadership skills to pursue a career in the construction industry.
"I was most impacted by working in a group setting, and utilizing each teammate's skills through effective communication to solve a problem," he said. "As my career has progressed you quickly understand the construction industry is a team environment."
"We are extremely proud of Landon's achievements," said Dr. Syed Ahmed, chair of the Department of Construction Management. "Outstanding students like him bring great recognition to the department, college and the university."
For more information visit https://www.progressiverailroading.com/people/news/Progressive-Railroading-names-25-Rising-Stars-for-2019–57338.