Record graduating class recognized
The College of Engineering and Technology honored its largest graduating class during the 2019 Spring Recognition Ceremony Saturday at Minges Coliseum.
Dr. Harry Ploehn, dean of the college, called the May 4 ceremony special in more ways than one and closed his remarks with "may the fourth be with you." The theme from "Star Wars" played as the 441 graduates exited the coliseum to cheers and shouts from family, friends and supporters.
"I'm feeling excited. I'm feeling finished," said Terrell Coutrier of Apex.
Coutrier, who received his degree in Information and Computer Technology and will work at Cisco in Raleigh, described his four years at ECU as "spontaneous and eventful."
Austin Blackwood, from Raleigh, donned a hard hat, along with the other construction management graduates for the ceremony.
"It's been a lot of fun," said Blackwood, who has a job lined up as a field engineer with Fred Smith Company in Raleigh. "I've learned a lot. We did a lot of hands-on stuff that we'll use every day, and I did internships for a couple of summers for experience."
Though he's graduated, Blackwood still has a bit of ECU business left as a member of the rugby team that will travel to Arizona Memorial Day weekend for the national championship tournament.
Christine Lahoud, an online student in Industrial Technology, thought of those who helped her reach graduation.
"I had a lot of support from my parents, the faculty and the advisors," said Lahoud, who is from Raleigh. "They encouraged me to reach for the stars."
Lahoud worked as she attended school and was recognized as one of the college's outstanding seniors.
Eric Vinson, of Wilson's Mills, received his degree in Industrial Distribution and Logistics.
"It's a joyous day," Vinson said. "It's great to see all the long days and long hours pay off. It's the light at the end of the tunnel. I can see it."
Ploehn thanked the students, their families and supporters, and the faculty and staff. He encouraged the graduates to remain connected through social me
dia sites to the university, which he said would always be a resource for them. He also told them that whether they had a new job lined up, planned on graduate school or were returning to their current jobs, they would do so as East Carolina University graduates.
"You have new horizons to capture," Ploehn said.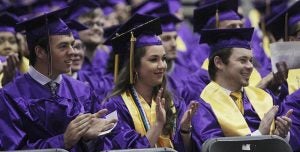 CET graduates applaud during ceremony.
For more pictures from Saturday's ceremony, go to the CET Facebook page link at http://bit.ly/2PQpD5Y
-by Ken Buday, University Communications